Hey you guys!!! It's my turn to do an inspiration post for Flowers, Feathers and Fairies digital stamps!! For my birthday back in April the amazing Sabrina drew this image as well as an individual
Unicorn
and
Dragon
for me because my 6 and 4 year old daughters LOVE unicorns and dragons. I immediately fell in love with the images but as of yet have only gotten to color the Dragon and I'm not sure I have even shared with with you all yet! How awful is that!!! So for my turn as inspiration provider for the month I decided to take the opportunity to color this image with the first idea that popped into my head when I saw it!!! I had to modify a little due to time constraints but the girls and I are thrilled with the outcome and I soooo hope you will be too!!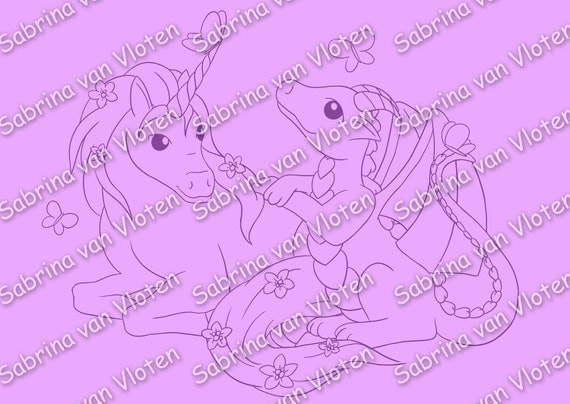 How adorable is that?!?!??!?! The butterflies and the flowers in the unicorn mane and tail give it such a playful feel!!
I love how my vision came to life here!! I wanted it to create a really magical scene here with elements that we all love. So the rainbow is my little girl, the wild flower meadow is my big girl (and me, one of the favorite places hubby and I found on our honeymoon in the Rocky Mountains around Jasper National Park) and the mountains are me. I love how each of these elements combined with the "Unicorn and Dragon" image make this image just a perfect representation of our family!!
Then I created my own version of the oh so popular "In this house" phrases going around. I honestly believe that the imagination and ability to image are two of the most important traits you can have!!! Without imagination we were never progress as a society. No one would think of new ideas. I want my girls to follow their imaginations wherever they may take them.
My big girl always says to me that the mythical creatures she loves right now aren't real. I ask her how she knows. She says she's never seen them. And I tell her that that's not proof they aren't real, it's proof no one has seen them. I choose to believe in Santa and the Easter Bunny and Unicorns, Mermaids and Dragons. Because without magic where would the fun be. There's so much magic for them to believe in and to see in the world if they only look for it!!! But they will never look if they don't believe.
To finish this project off I framed it in a lovely frame. It's currently sitting in an alcove by our front door. The girls are getting a thrill out of having a little bit of them right out there for the world to see. I think it helps them know this is their home too and pieces of them should fill it! Not just toys put away and beds made but the little things that make them who they are fill this home and are showcased here. And.... then... there's no fighting over who's room gets the "
Unicorn and Dragon
" image because that was the first question when I finished coloring it!! LOL
If you would like some more inspiration for these images pop over to the
Flowers, Feathers and Fairies Blog
and take a look at what the rest of the Design Team created for release weekend!!! These images were a surprise to me so I didn't get to participate but the rest of the team did an amazing job!!
OK, I'm off now to start another busy week here!! Hope you all enjoyed my little project for today!! See you all again real soon!! Thanks for popping by!!